Quality of sleep
Quality of life
The quality of our sleep is an important factor in the quality of our waking lives. Statistics show that insomnia is a major problem in western societies, with as much as 35% of adults reporting regular occurrences of sleep deprivation.
There are many reasons for insomnia and sleeping difficulties, but the most frequent cause is anxiety and stress. Sleep is supposed to bring rest and rejuvenation, but if the mind and body have built up an accumulation of stress and strain, this can interfere with the natural functioning of the nervous system.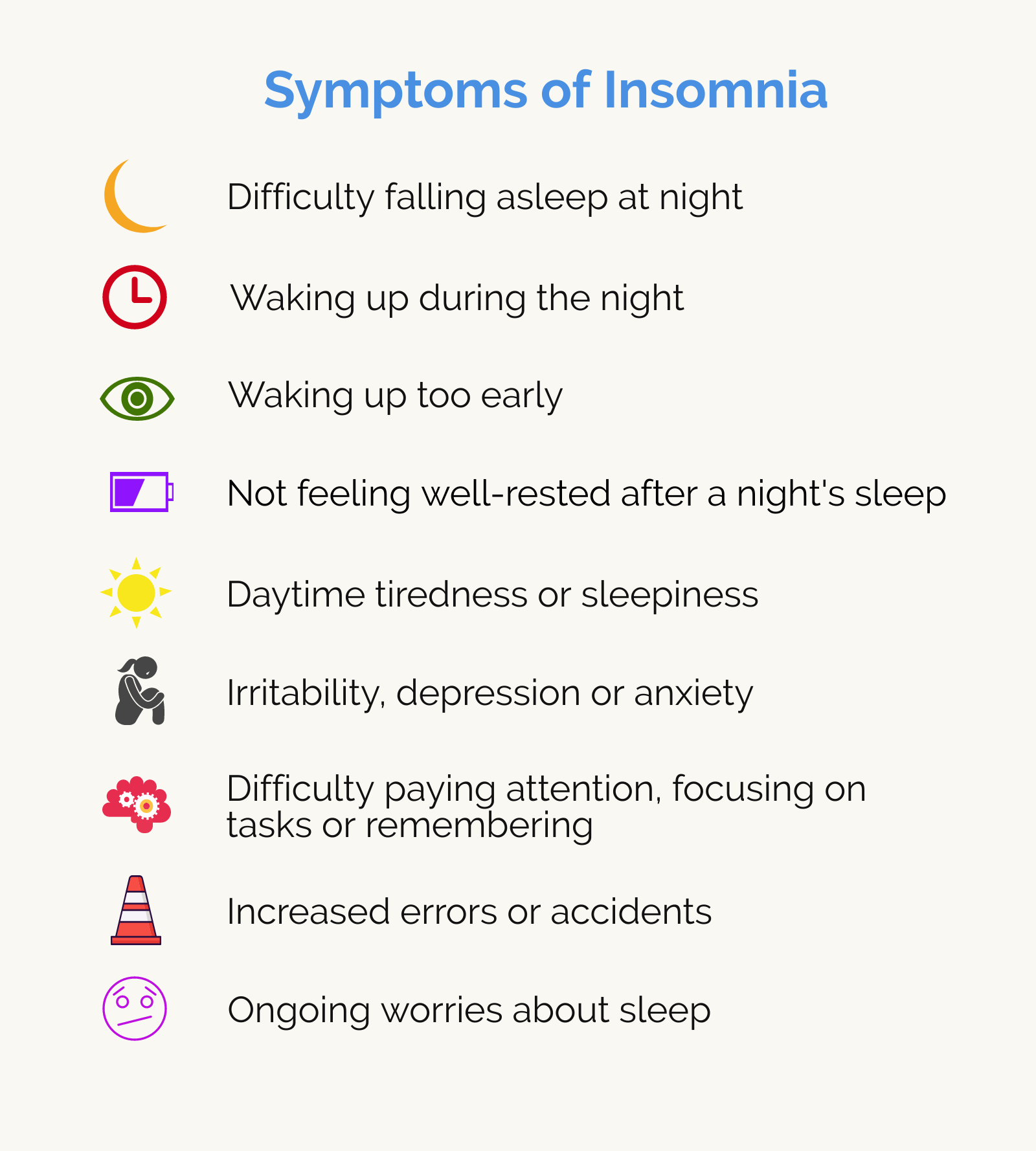 "I had terrible insomnia, and about a year ago I started doing Transcendental Meditation (TM). After four days of doing TM I could suddenly sleep."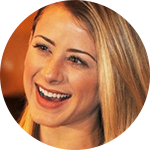 Lo Bosworth - Author, Entrepreneur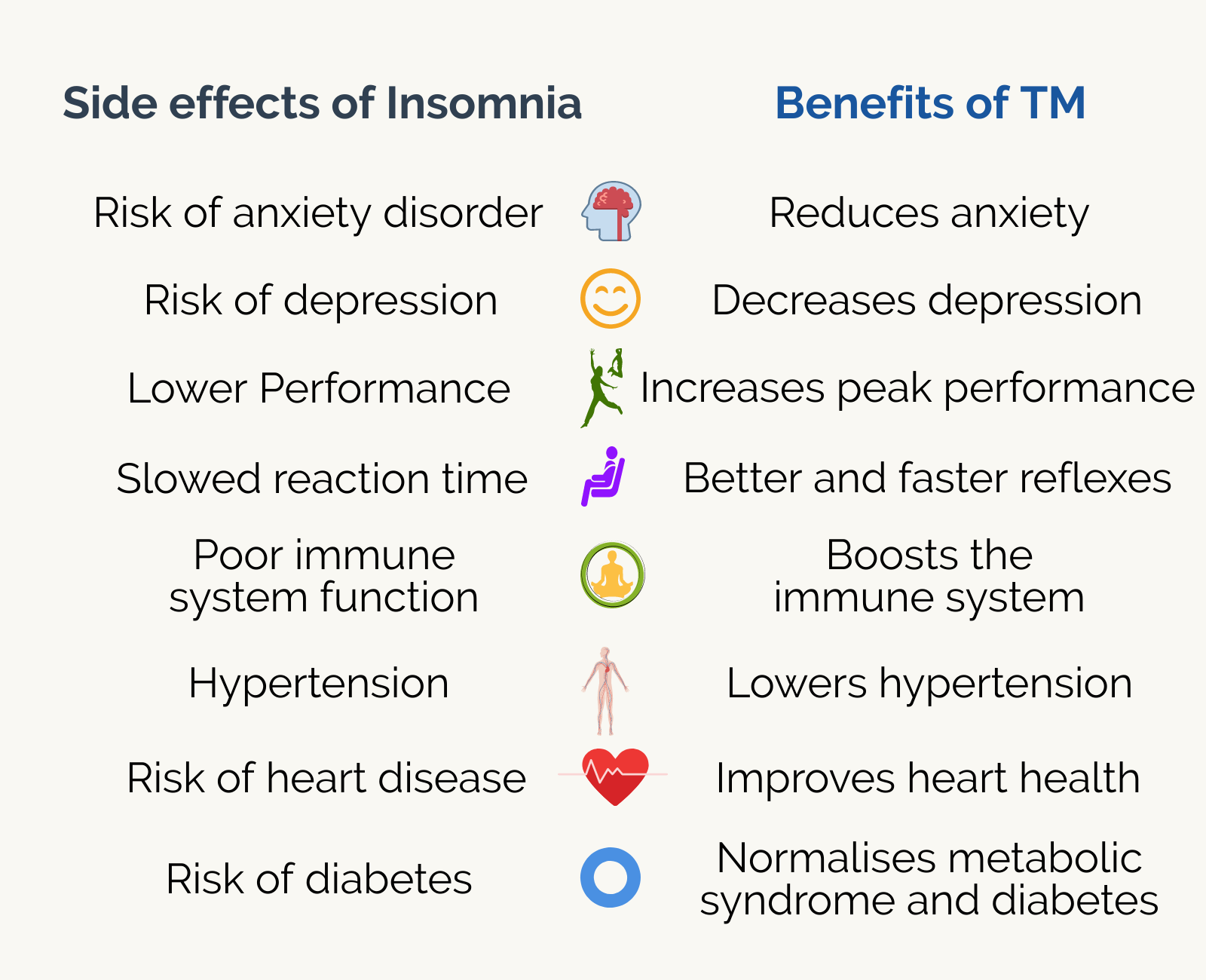 Scientific research shows that TM has been proven to help with insomnia
The way to break the insomnia cycle is to give the whole physiology a dose of profound inner rest and stillness. TM is highly effective at producing a state of deep inner calm. Many people report an immediate improvement in their sleep quality after learning TM.
Reduced Insomnia through TM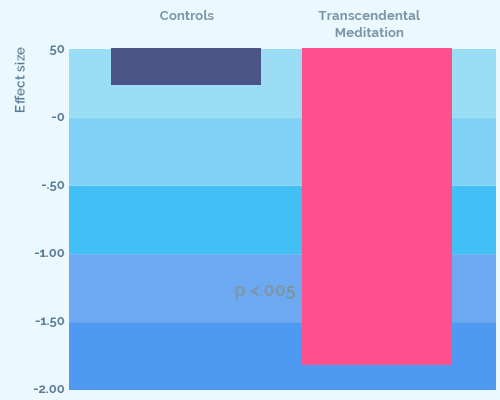 Source:Journal of Counselling and Development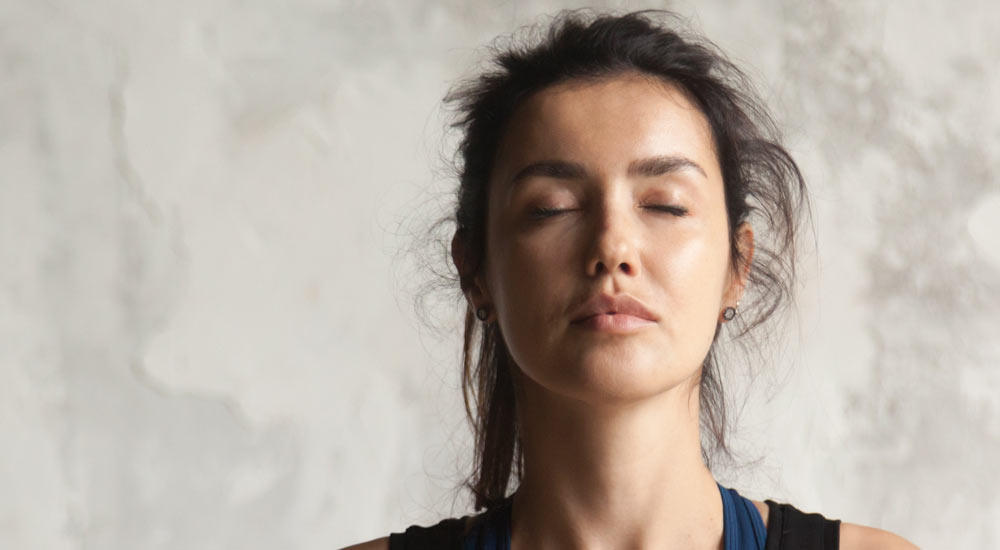 This short 20 minute power break can get you off that roundabout and activate your body's own healing power. Doing TM twice a day, gradually removes the stress, strain and fatigue from your body. Coming out of meditation, the mind is more settled and clear, which in the morning leaves you ready to dive into your work and in the evening refreshes you to enjoy your life more fully.
Increase your happiness hormone naturally
Neurologists have found that practising TM naturally increases serotonin, the neurotransmitter that plays a key role in regulating mood and sleep-wake cycles. Healthy levels of serotonin promote restful sleep. The practice of TM also reduces the level of stress-related hormones which affects a large number of areas in life, particularly the quality of sleep.
Change in serotonin levels during TM practise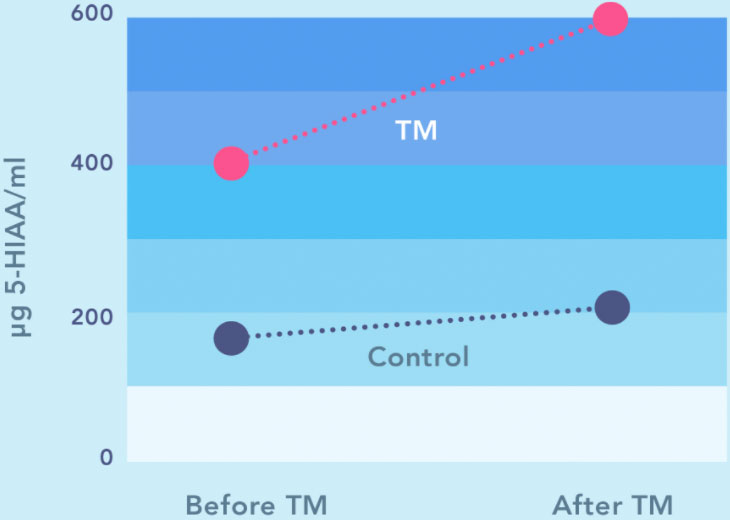 Reference: Journal of Neural Transmission Vol 39, pp257-267
Take the first step
Public introductory talks are currently being replaced with online webinars.
These are advertised under each location. If your local Centre is not advertising a webinar, please call them direct. Otherwise ...
Register for an online info session

Studies showing the effect of TM on insomnia
Published from 2000 to today
Orme-Johnson DW & Dillbeck MC. Methodological Concerns for Meta-Analyses of Meditation: Comment on Sedlmeier et al. Psychological Bulletin 2014; 140(2):610-16.
Elder C, Nidich S, et al, Effect of Transcendental Meditation on Employee Burnout: A randomized controlled study. The Permanente Journal, 2014, Winter; 18(1):19-23.
Effects of TM on trait anxeity: a meta-analysis of randomised controlled trialsHaratani T., et al. Effects of Transcendental Meditation (TM) on the health behavior of industrial workers. Japanese Journal of Public Health 37 (10 Suppl.): 729, 1990.
Lovell-Smith H. D. Transcendental Meditationâ€"treating the patient as well as the disease. The New Zealand Family Physician, 9: 62-65, April 1982.
Orme-Johnson D. W., et al. Meditation in the treatment of chronic pain and insomnia. In National Institutes of Health Technology Assessment Conference on Integration of Behavioral and Relaxation Approaches into the Treatment of Chronic Pain and Insomnia, Bethesda Maryland: National Institutes of Health, 1995.
Barnes VA, Bauza LB, Treiber FA. Impact of stress reduction on negative school behavior in adolescents.Health and Quality of Life Outcomes 2003 1(1):10
Barnes VA, Treiber FA, Davis H. Impact of Transcendental Meditation on cardiovascular function at rest and during acute stress in adolescents with high normal blood pressure. Journal of Psychosomatic Research 2001 51(4):597-605
Barnes VA, Treiber FA, Johnson MH. Impact of stress reduction on ambulatory blood pressure in African American adolescents. American Journal of Hypertension 2004 17(4):366-369
Broome JR, Orme-Johnson D, Schmidt-Wilk J. Worksite stress reduction through the Transcendental Meditation program. Journal of Social Behavior and Personality 2005 17(1):235-276
Castillo-Richmond A, Schneider RH, Alexander CN, Cook R, Myers H, Nidich S, Haney C, Rainforth M, Salerno J. Effects of stress reduction on carotid atherosclerosis in hypertensive African Americans.Stroke 2000 31(3):568-573
Chhatre S, Metzger DS, Frank I, Boyer J, Thompson E, Nidich S, Montaner LJ, Jayadevappa R. Effects of behavioral stress reduction Transcendental Meditation intervention in persons with HIV. AIDS Care: Psychological and Socio-medical Aspects of AIDS/HIV 2013 25(10):1291-1297.
Elder C, Nidich S, Colbert R, Hagelin J, Grayshield L, Oviedo-Lim D, Nidich R, Rainforth M, Jones C, Gerace D. Reduced psychological distress in racial and ethnic minority students practicing the Transcendental Meditation Program. Journal of Instructional Psychology 2011 38(2):109-116
Elder C, Nidich S, Moriarty F, Nidich R. Effect of Transcendental Meditation on employee stress, depression, and burnout: a randomized controlled study. The Permanente Journal 2014 18(1):19-23.
Grosswald SJ, Stixrud WR, Travis F, Bateh MA. Use of the Transcendental Meditation technique to reduce symptoms of Attention Deficit Hyperactivity Disorder (ADHD) by reducing stress and anxiety: an exploratory study. Current Issues in Education [On-line] 2008 10(2).
Kondwani KA, Lollis CM. Is there a role for stress management in reducing hypertension in African Americans? Ethnicity and Disease 2001 11:788- 792 Nidich S, Rainforth M, Haaga D, Hagelin J, Salerno J, Travis F, Tanner M, Gaylord- King C, Grosswald S, Schneider R. A randomized controlled trial on effects of the Transcendental Meditation program on blood pressure, psychological distress, and coping in young adults. American Journal of Hypertension2009 22(12):1326-133
Orme-Johnson DW, Barnes VA. Effects of the Transcendental Meditation Technique on trait anxiety: a meta-analysis of randomized controlled trials. Journal of Alternative and Complementary Medicine2013 19:1-12
Rainforth MV, Schneider RH, Nidich SI, Gaylord-King C, Salerno JW, Anderson JW. Stress reduction programs in patients with elevated blood pressure: a systematic review and meta-analysis. Current Hypertension Reports 2007 9(6):520-528
Rees B, Travis F, Shapiro D, Chant R. Significant reductions in posttraumatic stress symptoms in Congolese refugees within 10 days of Transcendental Meditation practice. Journal of Traumatic Stress2014 27(1):112-115
Rosenthal JZ, Grosswald S, Ross R, Rosenthal N. Effects of Transcendental Meditation in veterans of Operation Enduring Freedom and Operation Iraqi Freedom with posttraumatic stress disorder: a pilot study. Military Medicine 2011 176(6):626–630
Schneider RH, Alexander CN, Salerno J, Rainforth M, Nidich S. Stress reduction in the prevention and treatment of cardiovascular disease in high risk underserved populations: a review of controlled research on the Transcendental Meditation program. Journal of Social Behavior and Personality 2005 17(1):159-180
Schneider RH, Alexander CN, Staggers F, Orme-Johnson D, Rainforth M, Salerno J, Sheppard W, Castillo-Richmond A, Barnes VA, Nidich SI. A randomized controlled trial of stress reduction in African Americans treated for hypertension for over one year. American Journal of Hypertension 2005 18(1):88-98
Schneider RH, Alexander CN, Staggers F, Rainforth M, Salerno JW, Hartz A, Arndt S, Barnes VA, Nidich SI. Long-term effects of stress reduction on mortality in persons >/=55 years of age with systemic hypertension. American Journal of Cardiology 2005 95(9):1060-1064
Schneider RH, Grim CE, Rainforth MV, Kotchen T, Nidich SI, Gaylord-King C, Salerno JW, Kotchen JM, Alexander CN. Stress reduction in the secondary prevention of cardiovascular disease: randomized, controlled trial of Transcendental Meditation and health education in blacks. Circulation: Cardiovascular Quality and Outcomes 2012 5(6):750-758
Travis F, Haaga DA, Hagelin J, Tanner M, Nidich S, Gaylord-King C, Grosswald S, Rainforth M, Schneider RH. Effects of Transcendental Meditation practice on brain functioning and stress reactivity in college students. International Journal of Psychophysiology 2009 71(2):170-176
Walton KG, Cavanaugh KL, Pugh ND. Effect of group practice of the Transcendental Meditation program on biochemical indicators of stress in non- meditators: a prospective time series study. Journal of Social Behavior and Personality 2005 17(1):339-376
Walton KG, Schneider RH, Nidich SI, Salerno JW, Nordstrom CK, Merz CN. Psychosocial stress and cardiovascular disease. Part 2: effectiveness of the Transcendental Meditation program in treatment and prevention. Behavioral Medicine 2002 28(3):106-123
Walton KG, Schneider RH, Salerno JW, Nidich SI. Psychosocial stress and cardiovascular disease. Part 3: clinical and policy implications of research on the Transcendental Meditation program. Behavioral Medicine 2005 30(4):173-183