More energy, less stress, clearer thinking.
Enhance your creativity with Transcendental Meditation
Transcendental Meditation is a simple, transformative technique that is practised for about 20 minutes twice a day whilst sitting comfortably with eyes closed. It enables the body to naturally dissolve stress, strain and fatigue, allowing you to enjoy life more.
TM is easy to learn and starts working from the very first day. To find out how you can start practising and enjoying the many benefits, click here to attend a 1 hour info session.
Being calm, creative and healthy naturally
makes you happy
Does a stressed brain give us better judgement, help us solve problems more effectively?
Actually, no! Accumulated stress disrupts normal brain functioning.
What happens when you meditate?
Transcendental Meditation allows the nervous system to access a special quality of rest different from ordinary rest and relaxation - and in some ways deeper than sleep. It allows the brain to break out of the cycle of stress. The frontal lobes of the brain are then able to coordinate mind and emotions, and you see life in perspective once again.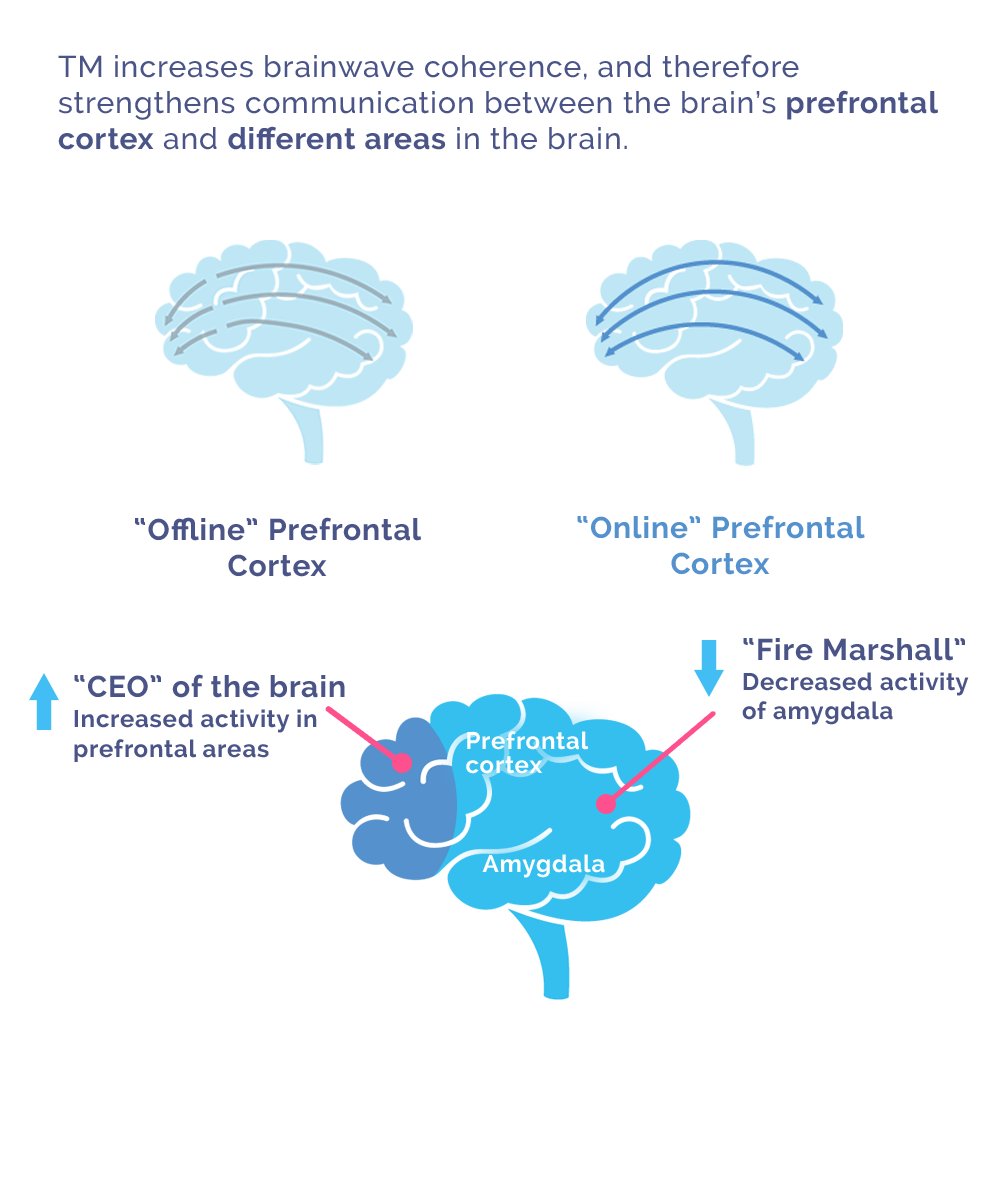 Scientific Excellence
We are committed to advancing the field of meditation through scientifically validating TM's benefits through our extensive research, with over 600 studies published to date.
Neurologists have found that practising Transcendental Meditation daily, releases serotonin, the neurotransmitter that effects your feelings of well being and happiness.
Reduced Psychological Stress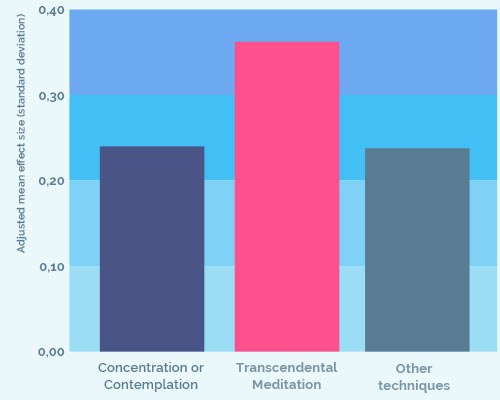 Source: Journal of Clinical Pyschology
A completely natural way to relieve stress.
Stanford University researchers conducted a meta-analysis of 146 independent studies on the effect of various meditation techniques and found that TM is twice as effective at reducing stress.
How is Transcendental Meditation different
from other meditations?
Compared to other meditations, TM is different in three ways.
1. Effortless
No concentration
No control of the mind
No mindfulness or monitoring of thoughts
No trying to "empty the mind"
Anyone can do it, even children with ADHD
2. Proven effective
TM has been proven effective for stress and anxiety, clarity of mind, and more.
3. Teaching method:
TM is taught in person by certified, qualified instructors
All TM teachers have undergone a systematic, thorough experiential and intellectual training
Delivery of TM instruction is personalised
Meet life in 2022 with more resilience and happiness with the help of TM.
Meditation lowers blood pressure

Transcendental meditation may be one way to keep the heart healthy, say researchers who have discovered how it keeps blood pressure low.

Does TM work?

"I find it profoundly relaxing. It gives me a chance to order my thoughts ... I am much less tired than I was a month ago. My sleep is deep and unbroken."

Meditate to sharpen your assertive edge

"It's unlikely [aggressive Type-A personalities] will be de-fanged and turned into a Type-B, by meditating. But they might feel less tense'."

TM for PTSD

Time Magazine: TM for PTSD "a peer-reviewed study finds that TM may have helped to alleviate symptoms of PTSD and improve quality of life in veterans of OEF/OIF with combat-related PTSD."
Common Questions

Can I learn TM from a book or video?
+
What happens during Transcendental Meditation?
+
What if I'm not good at controlling my mind?
+
What are the course fees?
+