Maharishi Aromatherapy
Maharishi Aromatherapy is a wonderful new programme that supports the benefits of Transcendental Meditation. This programme has been developed under Maharishi's personal guidance during the past 25 years. It is a revival of the complete knowledge of Vedic aromatherapy.
Aromatic plants have always held a special place in the life of mankind. They have been used for ceremonial, medicinal, and cosmetic purposes for thousands of years. Today, essential oils extracted from aromatic plants have been extensively researched, catalogued and applied through the discipline of modern aromatherapy.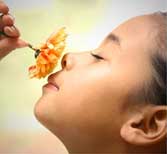 Maharishi Aromatherapy utilises VedAroma oils, the highest quality essential oils, in the context of Maharishi Ayur-Veda. VedAroma essential oils are all organic or wild-crafted and are of a superb quality. Maharishi provides an Aromatherapy extremely enjoyable and effective way of balancing body, mind and emotions, and helping to develop higher states of consciousness.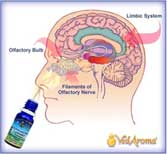 Research studies on essential oils suggest they can positively effect mood and brain functioning and produce benefits for a variety of health concerns.
A Maharishi Aromatherapy consultation is a pleasant and subtle experience. During the consultation you will enjoy a range of VedAroma essential oils especially selected for you by the consultant. You also receive a special home programme so you can continue to enjoy progress and bliss at home. This involves applying certain recommended essential oils. These oils are chosen to be beneficial for your particular body type, as indicated using the principles of Maharishi Ayurveda, and also to help specific areas that you wish to strengthen or support.
Experiences using the recommended essential oils can be very profound. They can include deep transcending, expanded awareness, and the experience of wholeness, bliss and happiness. The programme enlivens the body's own self-healing mechanism, and people have noticed many improvements in health, both overall and in specific areas. People also report better sleep, more energy, more happiness, and clearer experiences during their practice of Transcendental Meditation and the TM-Sidhi Programme.
Duration and Cost
An initial consultation takes about an hour to an hour-and-a-half. The cost for one consultation is £45, and for three consultations - one initial and two follow-ups, normally a month apart - the cost is £100.
To find out more, and to book an appointment, please contact the Maharishi Aromatherapy consultant for your area -see right-hand column.